J-STD-033D compliant Bake and Dry-Pack MSD product
Precautionary Measures for Treatment and Packaging of Moisture Sensitive Devices.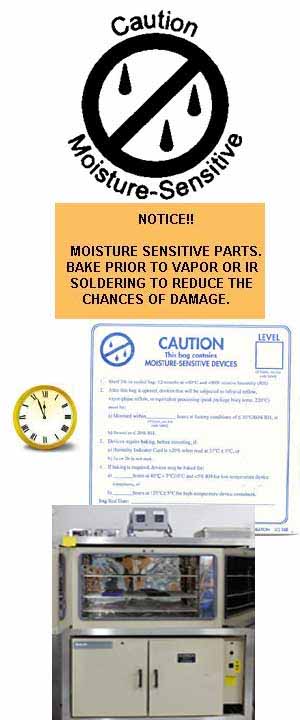 ---
Many component packages are considered Moisture Sensitive by their manufacturer.

BGA
TSOP
Quad Flat Pack
Transformers & Modules
Tantalum Capacitors
SOIC, TSSOP, SSOP's from certain manufacturers
The Exposure Time is often neglected by the supply chain so distributors often post a "Notice", effectively passing responsibility to the user.
Features
NPI Materials transfers product from the existing package into bakable trays and bakes the material per JEDEC J-STD-033 for the prescribed amount of time and temperature.
This resets the exposure clock to zero.
We then taped and reel the product, dry-package with desiccant and HIC and generate the proper labeling and a new exposure log.
Benefits
With a zero exposure log, the user can now reflow the product safely without fear of damage caused by moisture trapped inside the package.
MSD Processing can be combined with other NPI services such as reel splitting, exposing only the number of components needed during a single manufacturing run.
NPI's bake services are performed in annually calibrated, digitally controlled Grieve industrial ovens at temperatures of 125 degrees C or 150 degrees C, depending on the manufacturers' specification.

Details
Pricing includes all services and materials required to perform the service and is tiered based on the package condition of the product.

$0.025 / unit, $28.00 lot minimum for product received in bakable trays.
$0.035 / unit, $28.00 lot minimum for product received in tubes or bulk.
$0.05 / unit, $28.00 lot minimum for product received on tape or non-bakable trays.

Prices do not include re-taping or re-tubing. Standard Tape & Reel charges apply.